ICanLocalize translation process is integrated with the WPML plugin and saves your time managing the translations for you.
The translation process includes three elements:
The WPML plugin extracts text for translation from the website and builds back the completed translations.
The ICanLocalize translation server handles the content and organizes all the translations per client. This includes translators' assignment, translated files, review and QA phases.
The translation software is the tool translators use. This tool hides all the websites' internal complexity from translators, letting them focus only on the text.
WPML plugin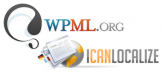 ICanLocalize has a dedicated client interface for WordPress websites using the WPML plugin. ICanLocalize and WPML are products of the same company, OnTheGosystems, and that's why we can provide in-depth support for WPML.
ICanLocalize is integrated with WPML and you can enjoy the full power of our translation system, without having to know its inner-working.
You just need to choose what to translate and send it to ICanLocalize. The system does the rest by extracting all the texts. At the end of the translation process, the translations are built back with the original layout and formatting.
The translations arrive posted on your website without the need for any editing or further processing. No copy and paste needed!
ICanLocalize translation server
The ICanLocalize translation server manages all translations and its interface allows you to:
Assign the translators and reviewers.
Maintain a glossary and a translation memory.
Monitor the status of the translation work.
Track issues and chat with translators.
Manage your account balance and invoices.
Translators are assigned per project. You can choose the translators with the most relevant experience. Of course, you can also keep using the same translator for all your projects. It's also possible to assign a second translator for the additional review of the texts.
A project manager will help you during the whole translation of your website, and we offer a complete tutorial on our website.
During the translation process, clients, translators, and reviewers freely communicate. The objective is to remove any barriers, allowing the translators to understand your needs.
Translators and reviewers work together to produce the best translation possible. They take into account the target audience so that the translation is more than correct. We strive to produce translations that appear native and natural.
Translation Software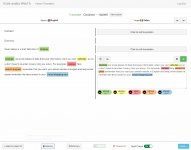 All our translators use our special translation editor, WebTA. This software is optimized for translating WordPress websites that include complex layouts and formatting.
Using this software, the translators never see the inner structure of the original documents. They use a visual editor where they translate only the texts. This means that translations always include the correct structure and formatting.
Every translation job must pass the automated Quality Assurance steps in the translation software. Once the technical verification is complete, translations can be further reviewed by a second translator.