Since we released the new online Web Translation Assistant (WebTA) to our translators, we have been receiving a lot of feedback with your comments and suggestions on options that can be improved. We have carefully studied each feedback. As a result of thorough, multiple testings, we have introduced several important improvements that should make your work in WebTA even more productive and efficient.
Less intrusive spell checker
When you have the spell checker on, it won't block the translation window every time you type unknown words. Instead, you will see a small icon with the number of misspelled or unknown words after you save a sentence. You can hover your mouse on the red icon with the exclamation mark to view the details.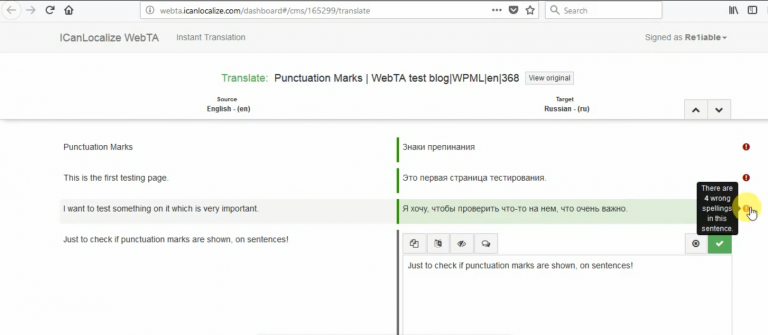 Better spell checker suggestions
The spell checker engine and dictionary have been completely changed so that suggestions are now more relevant and useful. We integrated Hunspell, the spell checker used by some of the most popular browsers and text editors.
The new spell checker also improves the recognition of misspelled words. Many translators reported that the old spell checker marked numbers and words with punctuation marks or special characters as misspelled. This issue has been resolved.
Additionally, you can finish a job even with "incorrect" words, such as proper nouns, which are not included in the spell checker dictionary. You can add proper nouns to the Whitelisted words (Dictionary) so that when used again they are not marked as spelling errors.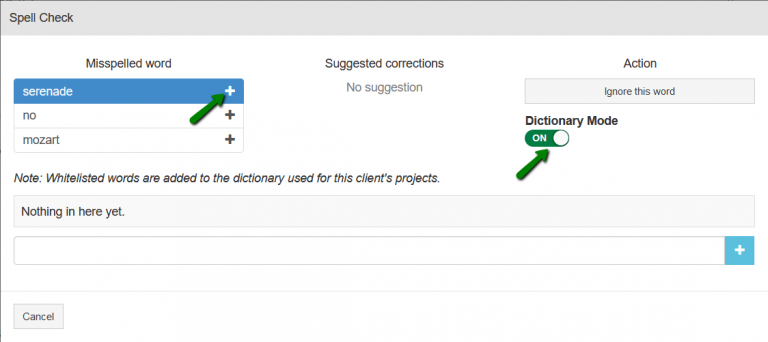 Note: The spell checker is disabled by default for Chinese (Simplified), Chinese (Traditional), Japanese, and other languages not supported by the Hunspell Spell Check Dictionary.1
Improved machine translation
To simplify your work, we provide an option that enables machine translation in WebTA.
Here, we switched from a statistical machine translation to a neural one2 that should give much better results for all languages for which neural machine translation is available. If the neural machine translation is not available, the statistical one will be used.

It's important to highlight that this is not a post-editing service and we are not offering it to our clients. You will still have to edit the translations, as clients are expecting human translations performed by professional linguists. So, when the machine translation mode is enabled, you will still have to edit and confirm each segment in order to complete the job.
Note: Once the Machine Translation switch is toggled on (enabled) for a CMS job in ICanLocalize, it is not possible to disable the Machine Translation function again for that particular CMS job; thus, it is a one-time action that cannot be undone.
---
1. List of languages supported by Hunspell Spell Check Dictionary
2. Neural machine translation on Wikipedia
---
ICanLocalize is a leading translation service provider that works with the best native professional translators and offers translations in more than 45 languages. We are experts at localizing mobile apps (including iOS and Android ones), websites and software. You are welcome to write to us to hello@icanlocalize.com, on Skype (icanlocalize) or fill out the form below. We will be happy to answer you! We are also on Facebook, Twitter and LinkedIn!