WordPress is an easy-to-use content management system (CMS) that allows you to set up websites in a few clicks. After that, the possibilities are endless. You can create blogs, news magazines, brochure websites, and e-commerce platforms, to name a few. WordPress can help set up the website and offers countless themes and plugins to customize it.
When you are ready to translate the website, you will often realize that the initial simplified installation you started with has progressed into a heavily customized tailored solution.
WPML is the most comprehensive plugin to translate every element of your website, and the WPML team continuously strives to enhance the array of available compatible themes and plugins.
You can often face difficulties during the translation of certain website elements, especially when the translation is not pre-planned while developing the website. You may have built your website on your own or hired a webmaster, but there are times when the expert opinion and help of specialized WPML developers would greatly save time ensure a smooth and efficient translation process.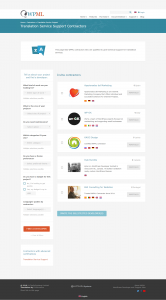 Who are the WPML contractors
The WPML contractors' system aims at helping you locate the right WordPress professional developer for designing a website.
You can find over 300 listed WordPress developers, and each developer has employed WPML for at least six months and has at least three websites that are submitted and approved. You can also view the developers' experience and portfolios in their respective profiles. If you already have a clear idea of your needs, project size, and budget, the available filters can help you find the appropriate candidate developers.
Contractors specialized in translation services support
While developing complex websites that require translation in several languages, you will likely opt for professional translation services integrated with WPML such as ICanLocalize.
Before sending content for translation, you need to ensure that every aspect of the WPML configuration is set correctly. This includes verifying whether the content is actually translatable and whether it needs to be translated. Configuration issues associated with themes, page builder elements, and plugin strings are very common and can often result in missing translated content.
Troubleshooting such issues requires advanced skills and the WPML contractors' system includes a training program for enhancing developers' skills. Developers who successfully complete the training receive a special certification and are acknowledged as contractors qualified for providing translation services support.
How can the contractors help you
The WPML support team strives to efficiently solve your doubts and troubleshoot problems. However, you may occasionally require a more thorough assistance or custom coding work that lies beyond the scope of support.
Following are some of the common tasks and issues that a contractor could handle for you:
Installation, configuration, and updating of WPML plugins.
Linking WPML to a translation service.
Configuring user custom post types, page builder elements, and plugin elements to make them translatable (particularly custom fields or shortcodes).
Finding and correctly sending documents and strings for translation.
SEO (Search engine optimization).
Custom coding work for making themes and plugins compatible with WPML.
Fixing layout and design issues.
The translation of any website can require certain preparatory measures. Hence, hiring specialized WPML support developers could save time and help avoid unpleasant surprises during the translation process.
If you are an ICanLocalize client or you are interested in translating websites with us, you are welcome to let us know if you would prefer a contractor to examine the websites to identify potential issues and solve specific problems (including issues that are not strictly related to the translations). ICanLocalize can directly contact the WPML contractors and we would gladly get you in touch with them.
---
ICanLocalize is a leading translation service provider that works with the best native professional translators and offers translations in more than 45 languages. We are experts at localizing mobile apps (including iOS and Android ones), websites and software. You are welcome to write to us at hello@icanlocalize.com, or fill out the form below. We will be happy to answer you! We are also on Facebook, Twitter and LinkedIn!