Christmas and New Year holidays are right around the corner and people worldwide are planning to celebrate them with their loved ones in anticipation of wonders and unforgettable moments. These days are usually public holidays in most countries, which creates a unique atmosphere of universal unity, regardless of the country of origin.
While Christmas is observed in 160 countries by Christians, as well as by many non-Christians, the date to remember Jesus Christ's birth is different for Orthodox Christians.
It is January 7th according to the Julian calendar that pre-dates the Gregorian calendar for Catholic Christians, who celebrate it on December 25th. For this reason, some Orthodox countries such as Russia will celebrate New Year's Eve first, and send greetings to their foreign friends before December 31st in token of respect. For the same reason, international companies usually wish "Season's Greetings" or "Happy holidays", in consideration of people of different religions. However, it is safe to wish Happy New Year to everyone!
If you are planning a trip for Christmas, or simply want to greet your clients, friends or colleagues from abroad, you might be interested in knowing which countries actually celebrate this holiday and what their traditions are. Here we have a collection of Season's Greetings in the most common languages:
| | | | |
| --- | --- | --- | --- |
|  English | Happy holidays | Merry Christmas | Happy New Year |
|  Spanish | Felices fiestas | Feliz Navidad | Feliz Año Nuevo |
|  French | Joyeuses fêtes | Joyeux Noel | Bonne Année |
|  German | Frohes Fest | Frohe Weihnachten | Gutes Neues Jahr |
|  Japanese | 良い休日をお過ごしください | メリークリスマス | 良いお年を |
|  Italian | Buone Feste | Buon Natale | Buon Anno |
| Chinese | 佳節快樂 | 圣诞快乐 | 新年快乐 |
|  Portuguese | Boas Festas | Feliz Natal | Feliz Ano Novo |
|  Russian | Счастливых праздников | Счастливого рождества | С Новым Годом |
|  Korean | 메리 크리스마스 | 메리 크리스마스 | 새해 복 많이 받으세요 |
|  Dutch | Fijne feestdagen | Vrolijk Kerstfeest | Gelukkig Nieuwjaar |
|  Swedish | Glad helg | God Jul | Gott Nytt År |
|  Danish | Glædelig jul og godt nytår | Glædelig Jul | Godt Nytår |
Now start sending! Many people around the world are preparing for Christmas Day on December 25th, so even if they might be away taking a short break with their family,  you can still share your season's greetings with clients, partners and colleagues around the world. They would be happy to see your greetings on social networks.
From ICanLocalize we want to wish you a merry Christmas and a happy New Year to all our readers! May the joy of this season fill your heart with cheer and spread smiles across the miles.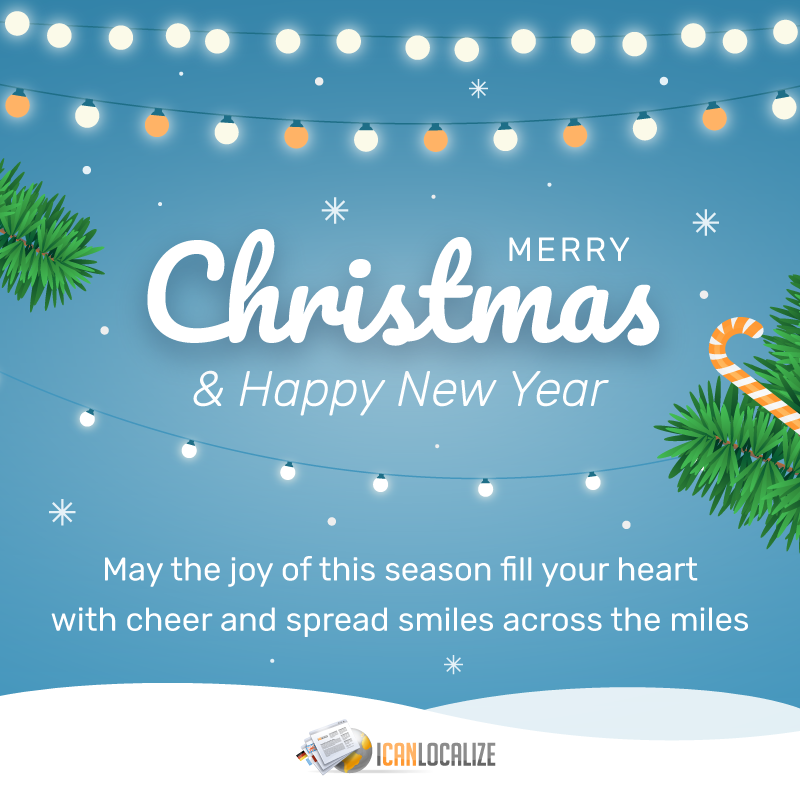 ICanLocalize is a leading translation service provider that works with the best native professional translators and offers translations in more than 45 languages. We are experts at localizing mobile apps, websites and software. If you have marketing material, brochures or just some documents that you need to translate, simply create a General translation project in ICanLocalize and upload your file. You are welcome to write to us at hello@icanlocalize.com, or fill out the form below. We will be happy to answer you! We are also on Facebook, Twitter and LinkedIn!