François Lepage helps run Blake Psychology which is based in Montreal, Canada. As Montreal is a bilingual city he needs a website in both French and English. François could translate the content himself but he is busy managing the business. That's why he started using ICanLocalize.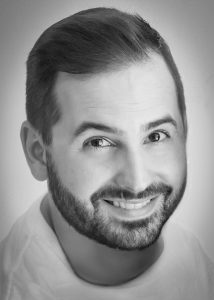 Why did you start using ICanLocalize?
Because we were translating so much content I needed someone experienced who I could rely on to do it for me.
The other issue was that we had to have someone who would be able to translate technical terms within the field of psychology. It was important that our translator could understand the right way to say certain things. For example, "burnout" is different in Canadian French compared with "normal" French.
By using ICanLocalize, I found someone with the knowledge I needed. So I sent a test article. The results were good so I felt confident enough to start.
What is the best thing about ICanLocalize?
It is a massive time saver. Because it is integrated with WPML I was able to do everything from the website. I didn't have to copy and paste content from Word, I could receive and post the translated copy on the website.
The translator we use, Lazuly, is also incredibly fast. It would take me a week to translate two or three articles given all the other things we have to do. But with Lazuly I see them coming in my inbox the day after. Boom it's done, boom it's done. It's amazing and really reduces the stress.
Were the ICanLocalize translations of a high standard?
Yes they were good and usable. I simply publish them as soon as the translation is done.
I'm very happy to have a partnership with Lazuly. I even connected with him on LinkedIn to say I was happy with his services.
The people that you employ really are experts. There are some great professionals who have made a career of translating by developing themselves through academia. It is a great comfort to know that.
What do you think of ICanLocalize's costs?
It was definitely worth the investment when I think about how much time I am saving. I am a business owner, I'm not a translator. I know how much my time is worth. If it takes me 10 hours to do a job which it takes a professional 4 hours then it is worth it.
If I count my time in money then I realize that it is better to outsource it and have the content translated by a guy who knows what he is doing.
How has ICanLocalize improved your business?
It is the time to market where ICanLocalize has really optimized things.
For the week that a piece of content is not online in both languages, I am losing business opportunities. For example, a French speaker might not find our new service on rehabilitation in psychotherapy if it's not translated.
Having the right person leads to faster implementation which leads to more sales quickly.
What would you say to other businesses who are considering using ICanLocalize?
I would say that it is definitely worth it. I would tell them to pick wisely and to make sure they have a translator who knows technical terms. There are very competent people who are using this service.
I would advise you to think of it as a long term relationship with a specific person who knows their business.
We've established a trust with our translator which has reduced our stress. I don't have to think twice about sending off content now which is a great help.
Start translating your content today. Sign up for ICanLocalize and find the right professional for you within minutes.