Software localization projects are simpler to handle now!
Today's system upgrade is meant to save precious time to both clients and translators, working on Software Localization projects.
Here's the problem:
A client creates a project, uploads a resource file and selects 12 languages
There are a few unclear strings (like "Please %s %s sending!")
12 translators see this strings and ask the client to explain what it means. Overall, 11 translators have wasted both their and the client's time asking the same thing.
To avoid this, translators will now see issues that other translators have opened for a string. Instead of asking again, all other translators can subscribe to that issue and receive updates from the clients. This way, the question is asked and replied-to just once and everyone is happier.
Here is how it works.
Step 1 – a translator needs help with a string
The translator goes to the string and sees that it already has an issue.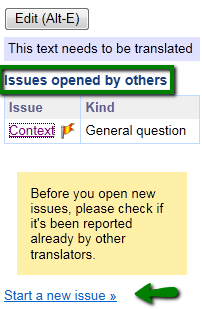 Instead of creating yet another duplicate, the translator goes to the existing issue and clicks on the 'subscribe' link.

The client and the translator who opened the original issue can see who's subscribed to it.

Step 2 – the client replies and everyone gets the update
When you reply to one translator, the others will see it too -and even get notified if they have already subscribed to the issue in question.  This means you'll not be getting the same question twice.
Hey, there's more coming soon!
We have more goodies coming soon to make your localization work as pleasant and efficient as possible. I'll write about it when it's ready.