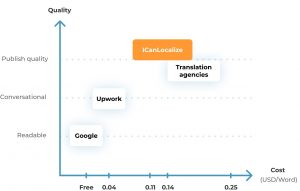 New pricing and new standards for software and WordPress projects
Software localization and WordPress projects have always been our most sophisticated and complicated translation projects. They save a lot of time to developers and offer accurate human translation. We've decided to increase their pricing, so that we can provide a reliable system that's easy and convenient to use.
Why we're raising pricing
We need to put more resources into our system, so that everything works smoothly for you. Over time, we created tools that make it easy and affordable to translate complex resource files and websites. We neglected our margins, which means that we could not dedicate enough technical support and developer time to maintaining and building features.
With the new pricing, we'll guarantee:
Convenient GUI

Complete support for all the formats that we offer

No chronic bugs
To provide this, we'll increase the pricing according to:
Software localization projects: 60% increase

WordPress translation projects: 20% increase
Pricing for instant translation projects and document translation remains unchanged.
What you can expect once you pay more
Our developers and supporters have always done their best to help you complete projects on time and well. However, due to our limited resources, we had to balance between support, maintenance and development.
With our new pricing, this will no longer be the case. We're planning to grow ICanLocalize's technical team, so that we always have available enough technical support and developers. We know what's missing and wrong with software localization and WordPress projects. Now, we'll finally be able to deliver.
Schedule
We're planning to update the pricing around February 2021. It will apply to both new and existing projects.
Feedback?
ICanLocalize exists for your service. We created it initially to translate our own software and websites and we're still our own clients. We would greatly appreciate your honest feedback about this plan. You are welcome to write to us at hello@icanlocalize.com or fill in the form below.