Are you in love with the mystery of the night sky? Do you catch yourself staring at the starry heavens, trying to find familiar constellations or planets?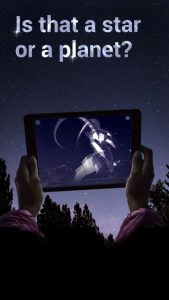 If yes, the Star Walk 2—Night Sky Map by Vito Technology Inc. is just for you.
With this app you will be able to impress your family and friends with your skill in identifying stars and their positions. You will find and observe planets, asteroids, comets, and other celestial bodies in real time in the sky above you. All you need to do is point your device to the sky and start your journey through the countless stars and constellations.
Complemented by articles on connected myths and history, this is the most comprehensive collection of information on constellations 1.
Star Walk is an international app by Vito Technology Inc., an award-winning app developer that has won Apple Design Awards 2010 with its Star Walk for iPad.
Thanks to ICanLocalize, Vito Technology's astronomy apps have been translated into 12 languages, (Chinese, Czech, Dutch, English, French, German, Italian, Japanese, Korean, Russian, Spanish, and Portuguese) and have reached over 15 million users all over the world!
"When we at Vito Technology started using the ICanLocalize service, most of the problems we experienced before have disappeared, and this is what we have now. All our string files are in one place. The database of our translations is stored and can be reused in any new project.



Duplicate strings are translated automatically.



The special chats with translators let you explain in detail what you want. There is also the feature to set a character limit so the words fit in the mobile app interface.



Once the strings are translated and reviewed you can send screenshots to double check that the words fit the app.


Last but not least, ICanLocalize translators are all native speakers or have the necessary qualifications and experience in mobile localization. They are always eager to help and improve your product. We are really happy with the ICanLocalize team's service and support."
By translating your app into the most spoken languages you can diffuse it and reach as many users as there are stars in the sky! Start now and see how your app downloads boost.
---
1. https://itunes.apple.com/us/app/star-walk-2-night-sky-map/id892279069?mt=8
You can find more information about Star Walk on Vito Technology website and download the app on Google Play Store.
---
ICanLocalize is a leading translation service provider that works with the best native professional translators and offers translations in more than 45 languages. We are experts at localizing mobile apps (including iOS and Android ones), websites and software. You are welcome to write to us at hello@icanlocalize.com, on Skype (icanlocalize) or filling out the form below. We will be happy to answer you! We are also on Facebook, Twitter and LinkedIn!