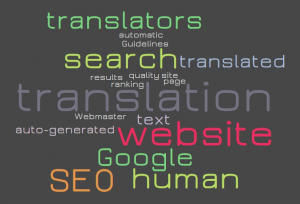 You've finally finished creating your website and now have all the right content to reach your desired audience. Next, you're thinking about translating the website to expand your business. If translation seems expensive and time consuming, you might find yourself wondering whether machine translation would be good enough. But can you really trust machine translation with your website content? Did you know that the translated text is analyzed by Google to define your website ranking in search results? Let's find out whether machine translation could put your website SEO (Search Engine Optimization) at risk.
Human translators vs. machine translation
There have been human translators since 2,000 BCE1 and their role in society as "bridges" between cultures is invaluable. However, their work is by no means mechanical. Human languages involve expressions and context, and the translators have to take into account not only the grammar but also the idioms, conventions, and connotations of words. A machine cannot choose the best style and words for the translation to be as effective as the original text was in the same context.
If your content is machine translated, the best-case scenario is that you will have a website without serious grammatical errors but with ineffective content that won't appeal to native speakers.
Machine translation and SEO
Google Translate is the most popular free machine translation tool in the world. Despite that, Google itself doesn't like websites with machine-translated content. The search engine wants to evaluate human, natural data to provide users with quality content in their search results. Using automatically translated content can result in penalties that lower the ranking of a website and also its credibility. In March 2011, Matt Cutts (Google's head of search spam) explained in a video that Google considers auto-translated text to be content of little or no value. If a user is searching for content in a particular language and finds in the search results a page that has been auto-translated without any human care toward proofreading it or making sure that it flows, that page provides a really bad experience.
John Mueller from Google at Google Webmaster Help forums offered confirmation:
"I just want to add a word of warning here – using automated translation tools to directly create content for your site could be seen as creating auto-generated content, which would be against our Webmaster Guidelines."2
According to the Google Webmaster Guidelines,3 automatically generated content is "content that's been generated programmatically," and the first example mentioned in the guidelines is specifically "text translated by an automated tool without human review or curation before publishing."
Risks of using machine translations on your website
If Google doesn't like the machine-translated content on your website, there are serious consequences, as explained by John Mueller:
"In general, when we determine that a page contains only auto-generated content, we may remove it from our index. If we determine that the largest part of a site consists of auto-generated content (such as when it's automatically translated and crawled & indexed like that for several languages), then we may opt to remove the whole site from the index. This may sound a bit harsh, but auto-generated content that is created for search engines is a really bad idea and a waste of our resources."4
You worked hard to build your website's reputation, ranking, and traffic. Is machine translation really worth the risk?
Not only does using machine translation weaken SEO, it can also jeopardize your business. It could compromise the credibility of your website and company. What would potential international customers think of poorly translated services and products? If the translation quality isn't high, that reflects on the perceived quality of your products. This is why it is fundamental to collaborate with human translators, namely professional linguists who can write text in their mother tongue that will sound natural and appealing.
---
1. https://en.wikipedia.org/wiki/Translation#cite_note-2
2. https://productforums.google.com/forum/?hl=en#!category-topic/webmasters/chit-chat/thnt2ShGjDQ
3. https://support.google.com/webmasters/answer/2721306?hl=en
---
ICanLocalize is a leading translation service provider that works with the best native professional translators and offers translations in more than 45 languages. We are experts at localizing mobile apps (including iOS and Android ones), websites and software. You are welcome to write to us at hello@icanlocalize.com, on Skype (icanlocalize) or filling out the form below. We will be happy to answer you! We are also on Facebook, Twitter and LinkedIn!