When it comes to translation, people tend to think that 10 pages would be fully translated within a day. However, that can't be true. How long does it really take to translate?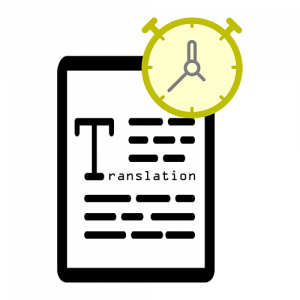 After the cost and quality of the translation, the speed of translation is one of the most important factors when you are considering the translation of your website or any kind of text. With the use of modern CAT tools, translation can be performed in a fast and furious way, but human factors still need to be taken into account. Unlike machine translation, human translation involves thorough work to recreate a scenario in a foreign language.
It is important to set the deadline from the start, so that a translator can add your project to their schedule and organize their time wisely. Speaking of deadlines, you wouldn't want the translator to be exhausted by the time he or she finishes the translation work, would you? There is a high probability of the translator's fatigue affecting the translation outcome negatively. For example, if you have 6000 words to translate, you can't set the deadline to be within 24 hours.
Let's try to calculate a realistic translation time
An average translator translates a page containing 250 words per hour and works for 8 hours in a day, which amounts to a translation of 2000 words per day.
Additionally, you have to allow some more time for complex texts, as a translator may need to research the terminology related to the topic of translation, which usually takes some time.

If you have some urgent translation work for your client, have the translator put aside all his or her minor tasks and just focus on your project. Experience shows the word "URGENT" makes a translator accelerate like Mario under the effects of a magic star. However, translators can't work in a high-speed mode all the time. Letting them translate 1000 words per day for you on a regular basis would be a fair deal, for instance.
TIP: Ask the translator to monitor the translation activities for an hour and see how much time he or she spends on translating a page, by downloading the WorkTime Personal Free Computer Monitoring Software1, for example. Based on the result, let them establish a realistic total time they'd spend on the entire project, and ask them to let you know. Or simply send them a short piece of text and see how long it takes for them to send back the translated version.
These techniques will allow you to calculate the time it would take to translate the text into multiple languages and set realistic deadlines. And remember the golden rule: treat others like you want to be treated. 🙂
---
1. https://www.worktime.com/personal/
---
ICanLocalize is a leading translation service provider that works with the best native professional translators and offers translation services in more than 45 languages. We are experts at localizing mobile apps (including iOS and Android ones), websites, and software. Our progress tracking system offers an automatic deadline calculator and individual professional project management. You are welcome to write to us at hello@icanlocalize.com, reach out to us on Skype (icanlocalize) or fill out the form below. We will be happy to answer your queries! We are also on Facebook, Twitter and LinkedIn!