Elisa and Juan, a couple who work as translators at ICanLocalize, share their story on how they find a balance between work and a family with 5 kids.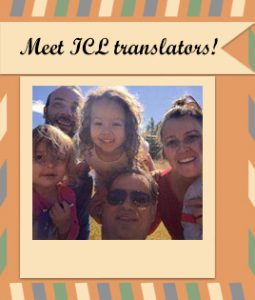 Juan joined ICanLocalize in 2008 when it started. Elisa joined later, in 2014, when she was pregnant with her first daughter, Victoria. Then they had Tanja, Thomas and the twins.
"The twins were completely unexpected," laughs Elisa. "We were fine with three. When I got pregnant, I told Juan, 'What are we gonna do with 4 kids?!'"
After they got the results of her ultrasound, they realized there would not be four, but five kids!
"The car is not big enough, the house is not big enough – you have to restructure your life completely."

"We are happy having a big family but it's a lot of work!"
Their nanny comes in the morning to help take care of the three older kids, while Elisa stays with the babies.
To the question, "What time do you go to bed?" they replied, "We don't! We get up throughout the night, because one baby cries, then the other one cries, then my 4-year-old wants to go to the bathroom, and the 2-year-old needs a diaper change… We don't sleep really. We haven't slept in 5 years!"
Elisa moved from the United States to Argentina to be with Juan and stayed there. The grandparents are far away, so they are on their own, managing work and family as best as possible. They say that Argentina has become very expensive and that they are thinking of moving to another country, such as Peru, where everything is much cheaper.
Elisa and Juan met in San-Martine, a small ski resort in the mountains away from the city. Juan was there on Christmas vacation. A friend of a friend who happened to be a French translator introduced him to Elisa, and they have been together ever since that Christmas in San-Martine. With Elisa pregnant with their first child, it was a no-brainer!
They are both from big cities. Juan is originally from Buenos Aires, Argentina. Elisa is from Los Angeles, USA, but when it comes to raising kids, they thought that San-Martine was way better, because it's a really safe, laid-back town.
"When you are 37-38 years old, it's about time to think about getting a family," they laugh.

As Elisa's native language is English and Juan's is Spanish, they proofread each other's work.
"Elisa is a perfection freak!" says Juan. "She reads and goes over it again and again until it's perfect!"
They also help each other clarify some parts of the source text.
"It really helps because we can transmit exactly what clients want to say."
"We put into words exactly what clients want to say."
"I am the vocabulary freak," confesses Juan. "I always do research, like 18 or 20 times for a term when I don't know it. I go online and search thoroughly before settling for a specific term, especially with networking or other challenging areas."
Although they come from different language backgrounds, they speak English at home and their kids speak English too.
They also have 4 dogs and 20 cats! In their free time, Elisa rescues cats, dogs, horses and other animals. She leads an animal rescue organization in Argentina and is closely involved with the environment and community.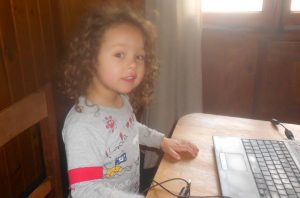 They like working from home as they are always there for their kids. When the material they are working on is very sensitive, however, they get out of the house and work from a quiet bar, for example.
They mainly work at night, while the kids are sleeping.
"We really are night people," Elisa tells us. "We also have a window to work in the morning, when kids sleep until 10. When we deliver the work, we can take a nap. Then, during the day, we take turns in translating. Sometimes, I hide in a room, so that the kids don't know I'm there, to focus on my work. We are so used to no sleep at all that it doesn't bother us!"
Work motivates them to stay up all night.
"We feel our responsibility to deliver good quality work very strongly. Translation jobs are both challenging and interesting at the same time. When you get into the research, it becomes really interesting, and you just want to keep on going."
Juan usually says, "When I start, do not interrupt me."
"Translation never gets boring!"
"When I see the job done, I feel great!" says Elisa. She loves translation because it never gets boring. They enjoy working at ICanLocalize.
"We want to thank you for being so understanding! You are a great family oriented company. That's why we give you our 110%! The rate is great. You pay right away, that's awesome! The system is pretty friendly – you don't have to convert files – no extra work. You just go into a platform and translate, which saves you a lot of time. Support is always available. You guys are the first choice for anyone who has a multilingual WordPress website!
---
ICanLocalize is a leading translation service provider that works with the best native professional translators and offers translations in more than 45 languages. We are experts at localizing mobile apps (including iOS and Android ones), websites and software. You are welcome to write to us at hello@icanlocalize.com, on Skype (icanlocalize) or filling out the form below. We will be happy to answer you! We are also on Facebook, Twitter and LinkedIn!