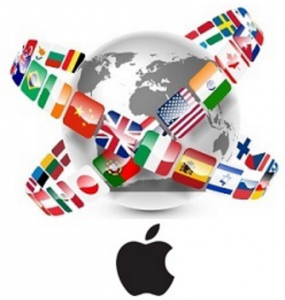 In a world where the use of iPhones is rising exponentially, there is a huge opportunity to make a name for yourself and earn tons of revenue by making your iPhone app multilingual.
Nowadays, we hardly see any English-only iPhone apps; this is mainly because everyone wants to have a top-selling app and the most! ABI (Allied Business Intelligence) Research has predicted that mobile app revenue will reach $46 billion by 2016, up from approximately $8.5 billion in 2011. Hence, mobile developers must take advantage of this boom and dive into app localization.
It is a fact that app markets are becoming incredibly competitive, and we know that nothing can stop you from developing and selling an app that is similar or better than what is already out there, however, you can always increment your app's success by making it available in the most app-profitable countries and growing markets.
In order to determine the best languages to translate your app into, you must know where in the world are the users who use iPhones the most and what language they speak. Although English-speaking countries (United States, United Kingdom, Australia, and Canada) are still the front-runners in terms of downloads and revenue, there are three new countries that have emerged: China, Japan, and Korea.
Asian countries play a significant role when it comes to app localization. In 2014, China was ranked second in the gaming market in terms of revenue generated in the App Store worldwide. The revenue growth of the Apple App Store was driven largely by China and the United States.
After the Asian countries, the next major countries on the list are Western European countries. Germany is leading the European market in terms of revenue generated from mobile apps and games, followed by France and Italy. According to AppLift and Newzoo,  the estimated revenue from mobile games in Western Europe reached $3.2 billion at the end of the year 2014; which makes Western Europe the third largest market in the world in terms of revenue from mobile games, after North America and Asia Pacific.
In summary, the top languages to translate your iPhone app are listed as follows:
English
Chinese
Japanese
Korean
German
French
Italian
Spanish
Brazilian Portuguese
Malay
Don't be surprised by Malay at the #10 position! 🙂 In 2014, Newzoo stated in its Global Games Market Report that the following six countries generated 97% of game revenue in Southeast Asia: Indonesia, Singapore, Malaysia, Thailand, Philippines, and Vietnam. Therefore, Malay becomes our #10 language for iPhone app localization since as it's the most widely spoken language in this region.
ICanLocalize is a leading translation service provider that works with the best native professional translators, and offers translations in more than 45 languages. We are experts at mobile-app localization (including iPhone and Android localization), website localization, and software localization. Find out more about our amazing rates and quality of work here: (http://www.icanlocalize.com). You are welcome to contact us at hello@onthegosystems.com or on Skype (icanlocalize).