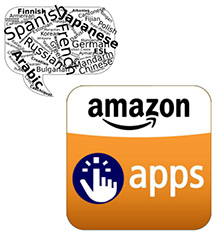 We knew the Apple Store and Google Play weren't going to be alone in the run for becoming the greatest app market. We knew a third player would eventually show up and step in. It was just a matter of time.
The Amazon Appstore was launched in March 2011. It's not only for the Kindle Fire apps but for any devices running Android OS 2.1 and higher. As of February 2015, the Amazon Appstore held over 330,000 apps.
The Amazon Appstore is now available to customers in nearly 200 countries! Therefore, its apps are available in several languages.
If you are a developer and are considering selling your app in the Amazon Appstore to broaden your market and increase your audience, then you must take into account the languages (translations) you will be able to add: English (U.K.), French, German, Italian, Spanish, Japanese, Portuguese (Brazil), and English (Australia).
Even though the Amazon Store is quite new, the process of adding translations when uploading your app couldn't be simpler. You only need to fill in the following fields:
Language (required): Select a language from the pull-down menu.
Display Title (required): The display title should be brief.
Short description (required): Enter a short description of your app that is appropriate for mobile devices. The maximum length is 1,200 characters, but Amazon recommends a much shorter description.
Long description (optional): Enter a description of your app that is appropriate for use in the Amazon Appstore. The maximum length is 4,000 characters.
Product feature bullets (optional): Enter three to five key features of your app, one per line. Amazon will add bullets for you.
Keywords (optional): Enter comma-separated search terms that will help customers find your app on Amazon.com.
Remember that localizing your app into the major languages (Spanish, French, Italian, Chinese, Japanese, etc.) can bring in a huge number of new users who will evaluate not only the usefulness of your app or the engagingness of your game but also the quality of the translations. A bad translation can bring bad publicity and disappointed users.
How to avoid this? Hire professional translators who can handle app localization and know what all the fields above are about. Apart from being translators, they are also app users just like those to whom you're addressing your app, so they will certainly know how the app should be described in their native language.
---
ICanLocalize is a leading translation service provider that works with the best native professional translators, and offers translations in more than 45 languages. We are experts at mobile-app localization (including iPhone and Android localization), website localization, and software localization. Find out more about our great rates and quality of work here: (http://www.icanlocalize.com). You are welcome to contact us at hello@onthegosystems.com or on Skype (icanlocalize).