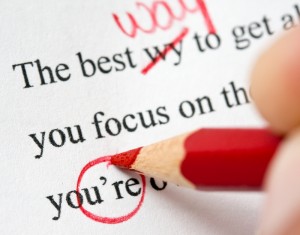 To achieve a really good translation you need a dedicated professional translation. But humans sometimes make mistakes: typos, slip in the wrong word, punctuation or simply have a key stuck on the keyboard caused by a crumb from a hurried lunch. This may also happen after hours of monotonous work when the attention gets dulled.
So finally, the translation is complete. The translator has done his or her best and is proud of the job. The text seems ok. At this stage you can publish the translation or better hand it to a proofreader for a final check.
The proofreader steps in and looks at the same sentences from a different perspective. He or she goes over the text with a fresh eye and sees possible misspellings or miswordings popping out. The same could happen when the customer reads the text. It's better to prevent such cases.
A well-known fact: other people's faults are way easier to spot than one's own.
A native speaker – reviewer reads the translation and evaluates it as the end user, checking whether there are phrases which are hard on the ears, if the translation is too literal and makes the final copy user-friendly. Being a good judge, the reviewer detects errors ensuring the translation's accuracy and coherence of its context.

A reviewer, or an editor, is a dedicated role. No single edition, whether it's a book or a magazine, can afford to publish an item without the editor's prior check and approval. The company's reputation is at stake.

Just like a hotel room that has been cleaned by a housekeeper (even the best one) and checked afterwards by a supervisor. He or she enters the room and instantly sees tiny defects. The supervisor's motto might be: "What we can see – the client can see".

Another reason is accordance with a standard. The translator has a unique background. One of a kind. The text can be well translated, but still not meet common standards. Revising the translation minimizes the chance of it sounding out of place in the given field.
Two heads are better than one. A translator who has studied the subject in detail plus a reviewer who sees an overall image, together, create a final copy which is ready to see the light of the day. Both professionals interact about the correct use of words and come to a mutual agreement. This is when the job can be considered complete.
ICanLocalize is a leading translation service provider that works with the best mother-tongue professional translators, translating into more than 45 languages. We are the experts in mobile apps localization (including iPhone and Android localization), website localization, and software localization. Find out more about our great rates and quality of work here: (http://www.icanlocalize.com). You are welcome to contact us on hello@onthegosystems.com or on Skype (icanlocalize).