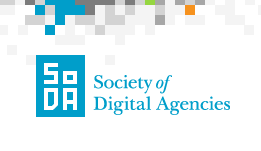 The Society of Digital Agencies (SoDA) serves as a voice for digital marketing professionals worldwide with a mission to advance the industry through Best Practices, Education, and Advocacy.
SoDA is an international association of respected digital marketing agency leaders and entrepreneur's with a history and a vision for the future of marketing. SoDA provides infrastructure, processes, and products to enable collaboration between members around education, best practices and advocacy.
They are a member-centric organization comprised of digital marketing/advertising agencies all over the world. SoDA has about 50 members located globally who use their site to find out about events, programs, and the latest that they're working on.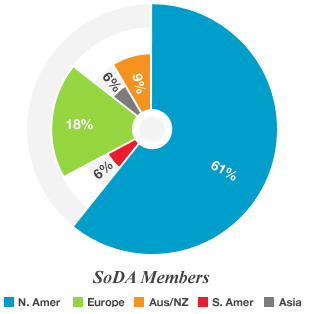 FOUNDATION
SoDA was founded in Miami in 2007: 13 leading digital agency CEO's decided to meet up and have a talk about where their industry was headed. New friends were made, business problems and solutions were shared and a society was formed.
GOING MULTILINGUAL
Natalie Smith, in charge of SoDA localization project, told one of our supporters: "Generally speaking, I think the translation system is a fantastic way to make a website multi-cultural." They translated with ICanLocalize about 85% of their site – only the static portions.
Being a non-profit organization, they are not seeking to increase profits by becoming multilingual. However, they have received a positive response from their membership for taking their site to an international level.
Natalie also stated that "The ICL support team was wonderful all throughout the process and could not have been nicer or more helpful. I was able to ask a lot of questions and was always given an answer within that same working day."
Thanks to the multilingual module WPML, Natalie has told us, that they're now able to attract Chinese, Portuguese, Spanish and French visitors that may have abandoned their site had they not become multilingual.
Natalie expressed her satisfaction with the translation work: "The translators were all very quick and didn't hesitate to reach out with questions which we welcomed. They were also very nice to communicate with."
Translation work is currently under a review process but will go live within the next month.  The review process is always necessary for any website that pretends to have versions in different languages with 100% quality.
With WPML and ICanLocalize translators SoDA will be reaching a broader constituency of digital marketing professionals worldwide, expanding on its international footprint around the globe.
Natalie Smith
Operations Associate Manager
The Society of Digital Agencies