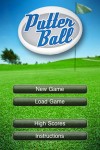 Putterball, by pushplay.net, is a game that requires the iron will of Tiger Woods, the consistency of Ben Hogan, and the practised motion of Jack Nicklaus. There are 10 levels, with three difficulty settings. Each difficult setting has a different club (with a smaller target area) and gets faster and faster as you play it.
There is a lot of "slang" text in this application that would not make sense if translated literally. Many phrases needed to be culturally translated into the other languages. In this case the application was localized into: Italian, Dutch, Japanese, Spanish, German and French. The developer, Jeffrey Berthiaume, needed professionals who understood what that text was trying to communicate, and write a replacement that would make sense for their language and culture.
The app developer was not worried about the English slang that he used, but he needed to make sure that there is proper native slang in the translations. This is what he wrote in the instructions given to translators: "In other words, I would like the native language you create to have colloquialisms pertinent to a native speaker of your language." The translations needed to have the feeling of authenticity that he was trying to achieve. And they definitely did!
During an interview with our support manager, Jeffrey said ICanLocalize is the easiest system he's dealt with. "I love the way the system is set up, I love how it's organized. It's the best practice I've ever had with a translation service", he said. He sent the files of his application and got them translated perfectly. He's 100% satisfied as all the process went smoothly. Translators came up with idioms and they did a great job figuring them out to have them make sense according to the target culture. He told our support manager that the translators he dealt with are fantastic, it was a back and forth communication. "The level of communication was excellent", he stated. "The translation of my application could not have gone more perfect". He is willing to send more material for translation as ICanLocalize is "the best system, the best practice".
With Putterball "See how long you can keep bouncing a golf ball on your putter!"
With ICanLocalize "See how your application can become multilingual and sales can boost!"
Jeffrey Berthiaume
Putterball Developer