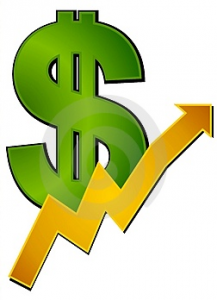 App localization is one of the cases where money is spent wisely. App developers get 25 dollars profit out of every dollar invested in localization.1 Of course, you can economize on translation but in exchange get low return on it afterwards and poor feedback from customers. Or you can invest in professional localization done by people who check every single word and proofreaders who double-check its coherence. In return you will get thousands of downloads and customers' appreciation.
App localization is beneficial for customers as well. Using your translated apps people obtain a proactive approach to life: make more purchases if it's a wish list app, get things done faster and move up at work if it's a planner app, visit more places if it's a GPS app. Thanks to these factors people earn more money and have more free time, what makes them download more apps. This is called a commerce circulation.
According to Portio Research 32% of mobile apps users download apps in Asia Pacific (Chinese, Urdu, Hindi, Korean, Japanese, Vietnamese, Thai, Tagalog, Indonesian, Malay, Tamil, etc.), 28% in Europe (Romanian, German, French, Greek, Italian, Hungarian, Finnish, Russian, Serbian ,Lithuanian, Latvian, etc.) 17% in North America (English, etc.), 13 % in Middle East (Arabic, Persian, Hebrew, Turkish, etc.) and Africa (African, etc.), 10% in Latin America (Spanish, etc.)2. As you can see from this statistics, people enjoy apps all over the world! Everyone who has a mobile device, in spite of the nationality, wants to make a purchase list, keep their organized notes at finger access, share photos with the loved ones or just entertain themselves playing games.
You have the right to express yourself through your applications, and people of all nations will fully understand your message and use your apps in the languages they speak. This means that you are helping each other make their living better.
1. http://www.multilingual.com/articleDetail.php?id=1797
2. http://www.portioresearch.com/en/blog/2013/fast-growth-of-apps-user-base-in-booming-asia-pacific-market.aspx
ICanLocalize (http://www.icanlocalize.com) is a leading translation service provider that works with the best mother-tongue professional translators, translating into more than 40 languages. We are the experts in Mobile Apps localization (including iPhone and Android localization), Website localization and Software localization. Our website translation and app localization technology platform lets translators work over 50% faster. We pass that saving onto you. Please contact us on hello@onthegosystems.com or Skype (icanlocalize) for further information.