Timeless Rooms is located right in the historic center of La Morra*, one of the most important villages in the Langhe area where you can find the most precious Barolo vineyard. The website offers their services: suggestive rooms, free wi-fi, a small garden where enjoy a nice aperitive, self-service breakfast in a private room. You can book online and visit this enticing place away from night life and the hectic of the city.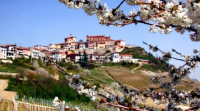 *La Morra is a small medieval village perched on the top of a sunny hill, encircled by narrow and tortuous roads, and embellished with a myriad of small villages and solitary farm houses, peeping out from among the vineyards. From up here, one enjoys a stupendous 360 degree view of the valleys and surrounding villages to the north.
A special vacation in Timeless Rooms can now be enjoyed by a wider audience as the site, originally created in Italian, has been localized into English. More and more visitors can access the information and find out about all the attractions offered by the place!
Enrico, the site manager, tested ICanLocalize to localize another site and he enjoyed the system. Being happy with how it works, he decided to use ICL for the localization from Italian into English of Timeless Rooms.
TimeLess Rooms has been built in WordPress, and the WPML plugin seems to be the best choice for Enrico, who stated: "I love the plugin and I've noticed lots of improvements. WPML is very useful." When asked about general feedback about WPML, he highlighted a general performance improvement. This site manager happy about the integration with graphics and the way it works smoothly with the themes he's using, such as WooThemes and ThemeForest.
It is mandatory for a company involved in tourism, such as an accommodation facility like Timeless Room, to have a multilingual website. Enrico also said: "If you want a multilingual website built in WordPress, WPML seems to be the best choice as it is able to translate not only posts and pages, but also the text strings from the theme and plug-ins."
He explained that after the localization carried out by one of ICanLocalize English translators, the website page views increased by 33% and, at the same time, the bounce rate for foreign visitors went down consistently, from an average of 79% to an average of 33%.
Undoubtedly, translating the website helped increase traffic and, consequently, get more reservations.
Enrico Cassinelli
Project Manager
http://timelessrooms.net/