This tutorial shows different ways for building and running multilingual websites. We'll try to help you choose the best solution for your site, based on what it needs to do.
There are dozens of great ways for building websites, including many content management systems, online tools and desktop programs. We've chosen to talk about a few of them, who we're familiar with and can support multilingual contents.
| Platform | Tech-level | Flexibility | Comments |
| --- | --- | --- | --- |
| WordPress | Intermediate | Medium | Good for small to large sites that include mainly pages and posts. |
| Drupal | Advanced | High | Good for corporate sites. Requires a professional developer to build and maintain. |
| Custom built | Expert | Maximal | Good in case the functionality cannot fit in a content management system. |
| Template based | Low | Limited | Allows getting started quickly, but makes it difficult to maintain and grow. |
WordPress – a lightweight CMS, great for managing pages and posts
WordPress summary
Sample site
Advantages
Easy to set up and use.
Large selection of themes and plugins and custom functionality.
Many designers – means you can order a professional custom theme for a low cost.
Recommended for
Product or service sites
Budget sensitive projects
If your site includes mostly static contents (pages) and blog posts then WordPress might be the ideal solution for building it.
Easy to use content editor

WordPress includes a great editor that lets edit pages visually, without having to ever see the HTML (although, it still allow editing HTML directly). It creates pages and organizes them hierarchically.

Blog posts

Of course, being mostly a blogging platform, WordPress will allow creating a blog as part of the site.

Images and videos

WordPress' media management is excellent. It allows uploading and quick-editing images. Easy-to-use plugins allow managing YouTube videos and Flickr galleries.

Multilingual support

WordPress doesn't come with built in support for multiple languages and site-navigation. The WPML plugin adds these functions and allows building full multilingual websites with WordPress.
Overall, WordPress is a pretty easy choice for any website that doesn't include a massive amount of programming. Unless you're doing a Digg clone, you should consider WordPress. It's possible that your custom functionality is already implemented in a plugin.
Getting started with WordPress
Download from wordpress.org.
Get a free theme and start building contents.
Hire a designer to create your own custom theme.
---
Drupal – CMS and application framework
Drupal summary
Sample site
Advantages
Flexible – you can achieve anything.
Allows running an entire web application.
Recommended for
Sites that need more than pages and posts
Web application driven sites
Sites that have a mix of static contents and a web application can be built using Drupal. On these sites, Drupal runs as a web application. It also manages contents (CMS), but does far more than this.
For example, gotwiter.com, interacts with Twitter's API, gets and sends twits and creates its own unique functionality. Sure, there are Twitter-update plugins for WordPress, but this goes to a different level.
Flexible content types

Drupal allows creating custom content types and display them in any way you need.

Everything is configurable

When the default way of doing thing isn't right for you, you can always customize and change anything.

Requires a pro

With great power comes responsibility. To create a site with Drupal, you'll need an expert Drupal designer.
Getting started with Drupal
Create a detailed spec of what you need.
Find an expert Drupal developer.
Let the developer handle all technical aspects of the work, including your serve maintenance.
---
Custom PHP / ASP
Custom coded sites summary
Sample site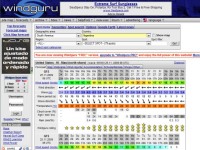 Advantages
Fully flexible.
Allows running an entire web application.
Recommended for
Web application driven sites
Sites with little static content
You might think that with such powerful content management systems, there's no need for custom coded sites, but that's not the case. For some sites, organizing contents in pages makes no sense.
For example, windguru.com generates all its contents from one central database – the world's weather map. It makes no sense to artificially impose a page-by-page structure for this kind of site.
When building custom sites, it's important to make them multilingual-ready from the start. Designers can use tools such as Gettext to make all the site's contents translatable.
However, it's generally pretty difficult to manage large texts in custom built sites. What people often do is use custom code for the application-generated parts of the site and a content management system for its static contents and blog.
For example, our own site (icanlocalize.com) uses Ruby-on-Rails as the application engine, powering our translation service and WordPress to drive the static contents.
Complete flexibility

You can achieve anything you like, without any constraints.

Complex and expensive

When you build your own system, you're doing everything from scratch, so you should expect to pay more and spend more time.
---
HTML template sites
Template sites summary
Sample site
Advantages
Low cost.
Easy to get started.
Minimal background needed
Recommended for
Very small sites with few pages
Folks looking to learn HTML
When the web started, almost everyone created their sites using static HTML files. Then, templates directories appeared, offering great starting points for HTML and CSS.
It's still possible to build a site by directly editing its HTML, but most of the reasons for doing it have long diminished. However, the drawbacks of editing HTML files remain. When building a site from HTML files, everything needs to be done manually. This includes building site-wide navigation, maintaining translations, creating sitemaps, etc.
Updates can become most difficult as a change in one place often leads to many changes in many files.
Easy to get started

Just grab a free template and start editing.

Low cost

Since only basic skills are needed, an expert developer is usually not required to build template-based sites.

Good for tiny static sites

As long as the site includes just a few pages, it's easier to write the HTML code than install a system that would do it.
Getting started with a template based website
Grab a template.
Edit the HTML.
Upload to the server.