Get professional translation for your WordPress site, on a budget and without wasting time.
This text will be replaced
Our unique translation system integrates inside WordPress and offers an unparalleled translation experience.
You will hire world-class translators, get affordable rates and enjoy a simple translation workflow.
This is how it works:
Install WPML, our multilingual plugin for WordPress.
Choose your translators.
Send content to translation and pay.
Completed translations appear back in your site.
It's free and takes a minute. Once you have an account, you can choose your translators and send content from WordPress.
Our Recent WordPress Translation Projects
---
What Makes ICanLocalize's WordPress Translation Special?
We're very serious about WordPress translation. In fact, we're the only translation service that actually specializes in translating WordPress sites.
ICanLocalize runs with professional certified translators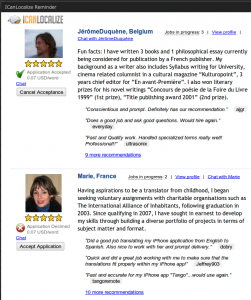 Do you know who's actually running ICanLocalize? No, it's not MBAs and it's not savvy business folks. The people running ICanLocalize are translators themselves. Since we have the entire process streamlined, we can focus on your translation. We obsess over quality, language and writing style and you enjoy the results.
ICanLocalize is expert in multilingual WordPress
ICanLocalize is the author of WPML – the de-facto standard for multilingual WordPress sites. We know exactly what it takes to run a multilingual WordPress site. Our own sites are all using WordPress, they're all multilingual and they're all translated right here, by ICanLocalize.
ICanLocalize's WordPress translation is convenient
You'll be running your site's translation right from within the WordPress admin dashboard. Receive a translation quote, interview and choose translators, send content for translation and get them back, ready to publish. It all happens with minimal effort and the best integration.
ICanLocalize's WordPress translation is economical
Because we've taken care of all the technical details, translating WordPress sites requires minimal effort both from you and from the translators. When translators spend their time only translating, you get better work at lower rates. It's that simple.
---
Contact us
We know that getting your website translated is a big step and we want to help. If you're just getting started, contact us and we'll give you free consultation.