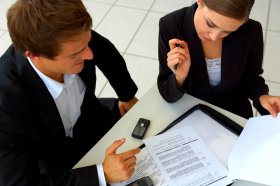 Hire a Translator for Language Work
Whether you need to translate ads, rewrite press releases or even get help with keyword research in foreign languages - we can help!
Use one of our professional translators to help with any language work.
You don't need to look for translators - we found them for you!
We only employ experienced professional translators, translating to their native language.
Our bidding system lets you find the right translator at the right price. You'll be able to communicate directly with your translator and get exactly what you need. Here's how it works:
Post your project describing what you need.
Get bids from professional translators in single or multiple languages.
Select the translator that's right for your project.
Safe payment
Once you've selected a translator for your project, we hold the payment in escrow. When the project is complete, you authorize to release the funds. All communication is handled by our secure system, including the translator's delivery, so if either of you needs help along the way we can always step in and sort things out.
Lowest cost
Since our system is self-service, you pay just for the translation. There's no management fee and other overhead. There's also no delay in getting your project started.
Ready to begin?
Sign up and create your account. You don't need to enter any payment information you've selected a translator for your project.